Efficient Elements for communications – The Add-in for Microsoft Outlook
Home Tab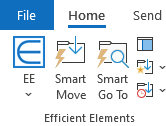 Move emails easily to…
Navigate quickly to…
…and more!
Toggle the preview with one click or keyboard shortcut
Message Tab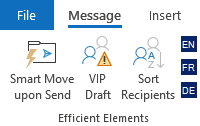 Manage your emails more efficiently!
Smart Move
Move emails to a folder by picking a suggested folder or searching a folder by starting to type:
Pick one of the folders suggested based on conversation, email address or email domain
Start typing one or several parts of the folder name or path to search for a folder
Create a subfolder within the selected folder by simply typing its name
Save emails and / or attachments to the file system easily if requried
Take advantage of the automatic linking of Outlook folders with file system folders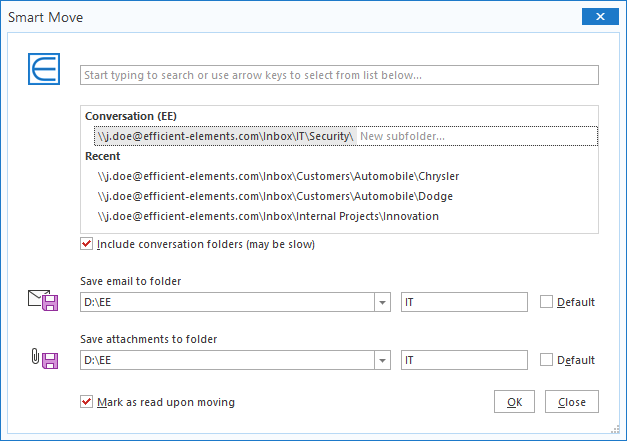 ---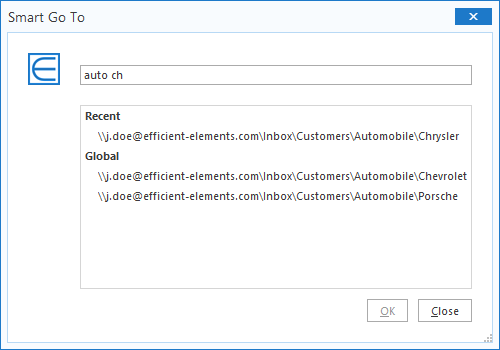 Smart Go To
Navigate quickly and easily to any Outlook folder:
Start typing one or several parts of the folder name or path to search for a folder
Pick one of the most recent folders used with "Smart Move" or "Smart Go To" from the list
---
Favorites Folder

Define a favorites folder which can be reached with a single click or keyboard shortcut upon moving emails or navigating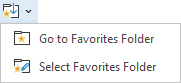 ---

Recent Folder

Move emails to the most recent folder used with "Smart Move" or "Smart Go To" or navigate there

---
Keyboard Shortcuts
Define keyboard shortcuts for all Efficient Elements and most Outlook features for maximum speed and efficiency
Efficient Elements
Predefined shortcuts for most important Efficient Elements features
Outlook
Predefined shortcuts for going to Inbox, Outbox and Sent Items
Many other Outlook features available as shortcuts (will only work in their original context, i.e. if the corresponding button is enabled on the ribbon)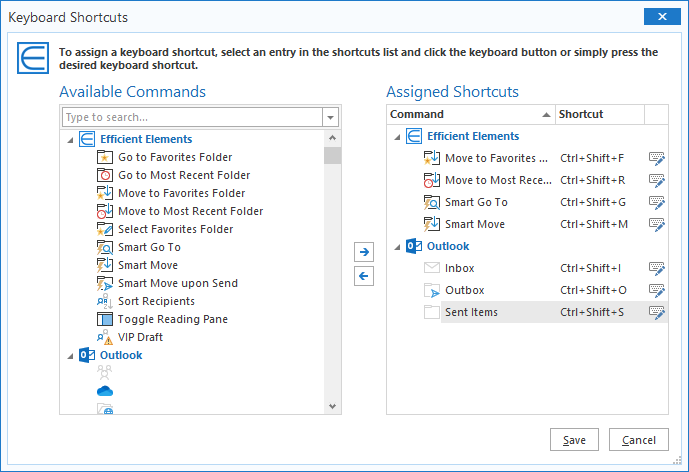 ---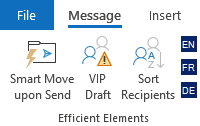 Message Tab
Mark an email draft as "Smart Move upon Send" to organize sent mails in a folder structure
Mark an email draft as "VIP Draft" to avoid important emails being sent inadvertently
Sort recipients alphabetically to avoid order of recipients being interpreted as importance or preference
Set spell checking language with a single click
---
Time Saving
Save valuable time and take care of more important tasks instead of wasting time searching for emails and Outlook folders.
Take advantage of smart folder recommendations
Let the folder search do the work for you
Find the right folder with only a few clicks or keystrokes
Create new subfolders on the fly while moving emails
Quality
Improve the organization of your daily emails to always have important information readily available.
Be more organized by using a fast email archive with your own structure
Never send out an important mail unfinished again by using the VIP-draft feature
Adhere to corporate guidelines to save mails to (server based) file system
Licenses

EE for communications - Single User License

For Windows, incl. updates and support

License Period 08 December 2023 - 07 December 2024

| Excl. VAT | Incl. 19% VAT |
| --- | --- |
| 99 EUR | 117.81 EUR |
| 139 USD | 165.41 USD |
All prices are excluding VAT and travel cost (where applicable). Users are uniquely identified by the combination of Windows / macOS username and domain / hostname (or hash values thereof). If the same person uses multiple such combinations, each combination is counted separately for licensing. Please review our General Terms and Conditions.
Software
Efficient Elements for communications
Download the full version of Efficient Elements for communications:
Download
Version 3.1.10
No admin privileges?
It works for 30 days as an unlimited trial version. After the trial period, you can simply enter your license key and continue using Efficient Elements without even having to reinstall it.
---
Documentation
Efficient Elements for communications – Getting Started
---
General Terms and Conditions