Efficient Elements for communications – The Add-in for Microsoft Outlook
Overview
Move e-mails easily…
Navigate quickly…

Edit e-mails more efficiently!
Move e-mails
The mail-move wizard helps you to topically sort your messaging accordingly in only seconds:
Enter parts of the destination folder name, the folder list will be filterted automatically
Create a new sub folder within the destination with a single click and entry of the new folder's name
Save time and improve mail sorting by using the automatic destination recommendation on the basis of message thread IDs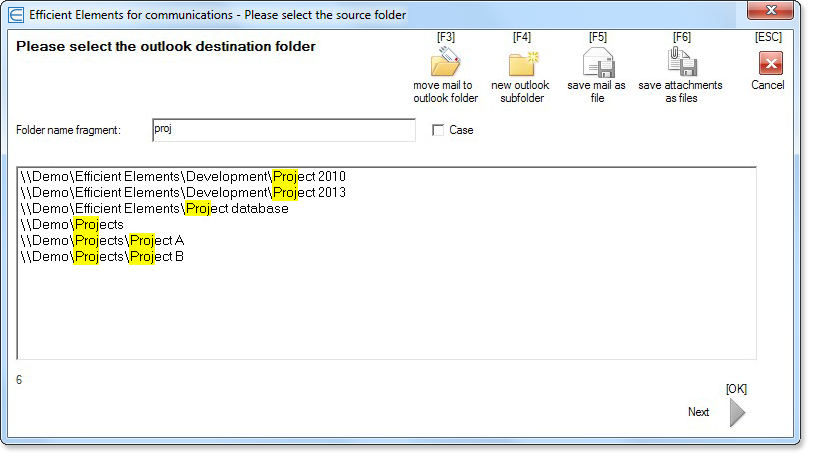 ---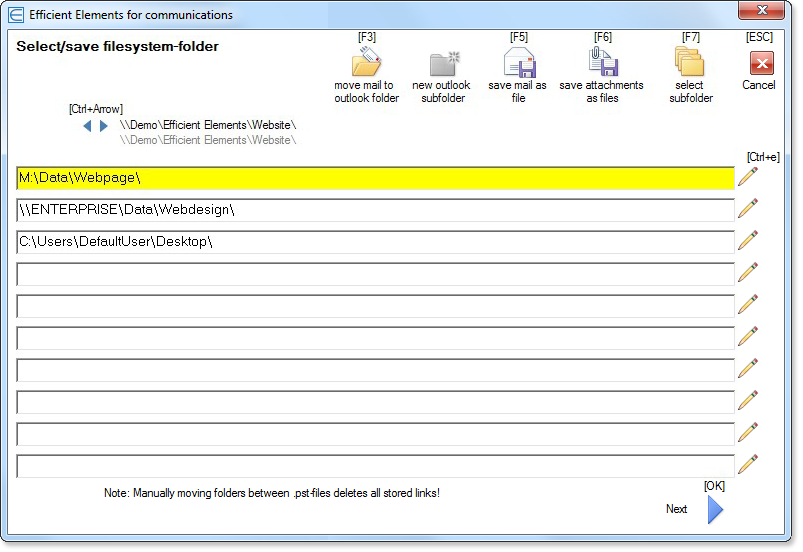 Save e-mails in the file system
Save a copy of mails easily on hard drive from within the mail moving wizard:
Activate the file saving while moving the mail via one click or function key
Let Efficient Elements save the corresponding file system folders to every Outlook folder for you
Narrow down the suggestion if you want to, by selecting a subfolder in the file system. You can also enter an individual file name
---
Repeated moving
Instead of having to renter the folder, move to the last destination or favorites:
Move the selected mails to the last target folder with only one click or function key
A security prompt gives you to chance to easily check the action
If the destination folder was renamed in the meantime, the security prompt notes accordingly
Move to an often used favorite folder without further prompt via one click or function key
---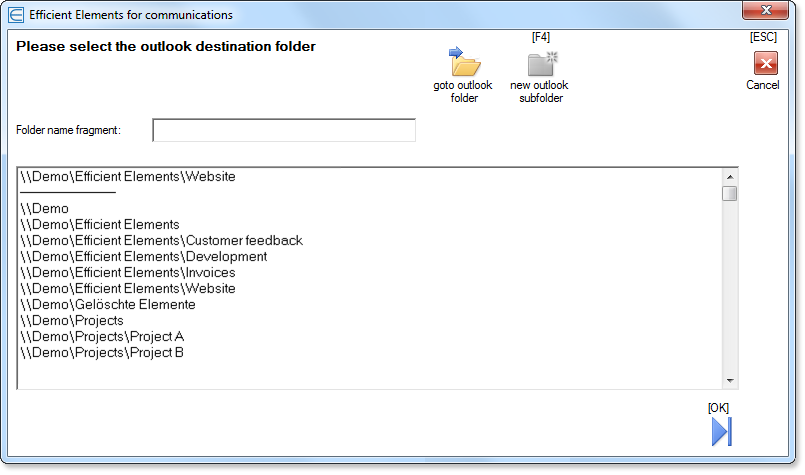 Quick navigation to folders
Quickly inspect your saved mails, by navigating to the destination folder via keyboard entry. Use one click functions for the
Inbox
and
Sent Items
::
Navigate quickly and easily to the desired folder by entering a part of the folder name via keyboard
Let Efficient Elements do the work for you by suggesting appropriate locations of the current threat and the last destination at the beginning of the list
Use one-click shortcuts to directly jump to the Inbox or Sent Items
---
Mail editor functions
Trigger the saving of mails already during sending and mark important drafts to avoid unfinished sending:
Choose whether you want to sort the sent mail to another folder than Sent Items right after sending
Mark a mail as VIP draft to get a warning when accidentally sending it unfinished. Thus you can avoid the typical work around to copy in the target addresses at the very end.
Easily change the spell checker's language if required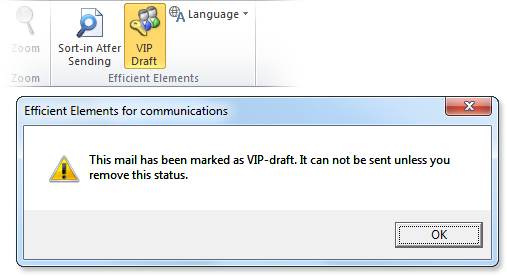 ---
Easily relocate folders

Using the folder relocate wizard, you can use the familiar keyboard entry also to quickly select the source and destination folders when relocating Outlook folders.

---
Extended property window

Have the parent mail folders displayed for search results by using the Efficient Elements extended property window. If all selected messages are located in the same folder, the prompt offers you to navigate to that folder right away.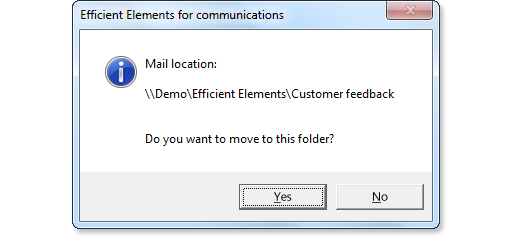 ---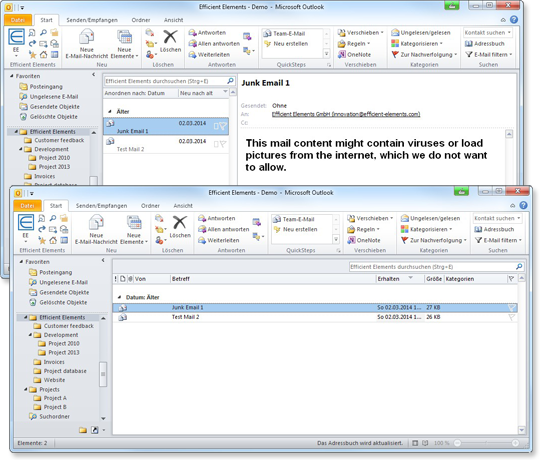 Hide and unhide preview window

Hide or unhide the Outlook preview window with a single click or function key. This allows you to keep the overview when many mails are stored in the inbox as the subject line is displayed larger. Further your computer is better protected as potentially harmful spam mails are not automatically loaded in the preview window.

---
Forgotten attachment warning

Improve the quality of your mails, by never again forgetting to attach a file. On sending a mail, we look through a configurable list of keywords which indicate an attachment. If your draft text matches one of the keywords but no file is attached, an appropriate warning is shown.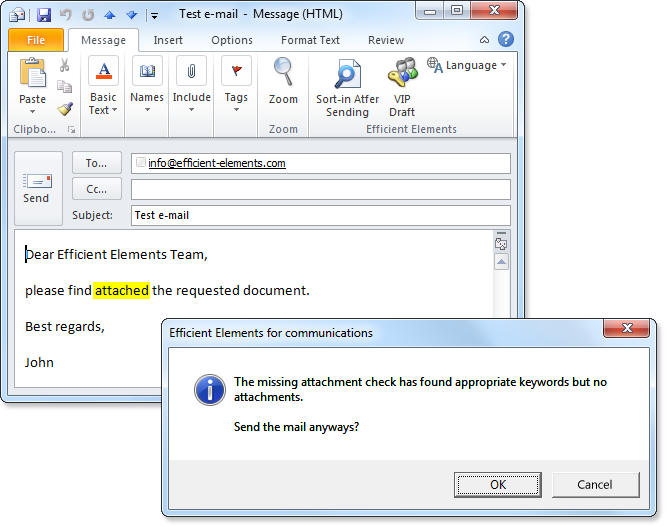 ---
Time Saving
Finally time to take care of your important tasks instead of wasting time searching for mail folders.
Take advantage of automatic mail folder recommendations
Let the folder search do the work for you
Find the correct target folder with a few keystrokes only
Create new subfolders on the fly while moving mail
Save valuable time in your every day mail handling 1)
Quality
Work organized well with your mails, in order to always have important things accessible immediately.
Be more organized by using a fast mail archive with you own structure
Improve quality by using the forgotten attachment warning
Never send out an important mail unfinished again by using the VIP-draft
Easy adherence to corporate guidelines to save mails to (server based) file system.
1) A study with beta-testers shows a significant every day time saving in mail usage.
We offer license models and software deployment options tailored to your company's specific needs.

License Models
We offer three different license models for our products. Most of our customers choose the Corporate License as it offers the best value.
Single User License
Multi User License
Corporate License
License Users
Single Named User
Multiple Named Users
All Employees
License Period
1 Year
License Expiration
Individual
Common
License Key
Individual
Common (can be included in installer package)
Benefits

Additional users can be added during the license period at monthly prices
All licenses can be extended at once

Attractive pricing model by user groups
Flatrate, even if additional employees are hired during the license period
Reduced effort for ordering licenses (only one order per year)
Easier license management & software deployment

Buy Now
Get a Quote
Get a Quote
Our license agreement is part of our General Terms and Conditions.
Software Deployment Options
As a standard, we offer two different types of Microsoft Windows Installer (MSI) packages:
We generally recommend to have Efficient Elements customized to your company's corporate design. All customized editions of Efficient Elements are packaged in an individual MSI package. We can also include your license key so users will not have to enter it manually. Please note that the license key cannot be passed to msiexec.exe as a command line parameter.
If you have special requirements for the installation packages to be used in your company (e.g. Terminal Server), we can also offer installation packages tailored to your IT environment and specific requirements.
Licenses

EE for communications - License

Single User License

License Period 18 June 2019 - 18 June 2020

| Excl. VAT | Incl. 19% VAT |
| --- | --- |
| 99 EUR | 117.81 EUR |
| 139 USD | 165.41 USD |
Software
Efficient Elements for communications
Download the full version of Efficient Elements for communications:
Download
Version 2.0.169
It works for 30 days as an unlimited trial version. After the trial period, you can simply enter your license key and continue using Efficient Elements without even having to reinstall it.
---
Documentation
Efficient Elements for communications – Handbook
---
General Terms and Conditions

General
---
Efficient Elements for communications is an add-in for Microsoft Outlook that helps to achieve more efficient mail handling in less time.
Increased quality of mail handling and archiving:
Allows to create a structured mail history on the fly.
Easy adherence to corporate guidelines to save mails to (server based) file system.
Improved quality through missing attachments warning, and other little helpers.
Reduced effort in mail handling: A study with beta-testers shows a significant every day time saving in mail usage.

Trouble Shooting
---
In case the loading of your folder trees take very long and you even see the message on the right, you very likely chose server based archives in the settings dialogue. Deactivate all public folders (including the Exchange-Inbox itself) and use local archives only (see next topic for hints).
Choose the Outlook NewElements key from the Start Tab and select Further Elements | Outlook Data File… . You can then choose a hard-disk location and filename to save the .pst file at. Make sure to select the new file in the Efficient Elements for communications settings dialogue.
In case the stated keyboard shortcuts are not functioning correctly, you can reassign the keyboard hooks in the Efficient Elements settings dialogue. In rare cases Outlook does not accept the reassignment and a restart of Outlook might be necessary to solve the problem.
Efficient Elements for communications does not allow backslashes \ in Outlook folder names, as these are used to separate the folder hierarchy.
Efficient Elements uses an Access .mdb database-file to store your folder selections in. This works on a Windows PC even in the case there is no full installation of Microsoft Access. In the rare case that you receive an error message on accessing the database, please ask your IT-Administrator to install the basic database drivers required.