12/14/2021
Important notice on the Log4j / Log4Shell (CVE-2021-44228) exploit
Efficient Elements does not use Java in any of its products and is therefore not affected by the exploit.
Efficient Elements
for presentations
The Add-in for Microsoft PowerPoint
Create professional presentations
in your company's corporate design.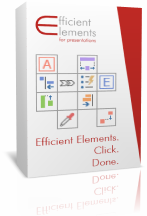 Features
30-Day Trial
Educational License
Free Webinar
Customization
Save Time in Microsoft Office
Finally time to take care of your real job instead of wasting time with office applications.
Easily Follow the Corporate Design
It has never been easier to comply with your company's corporate design guidelines.
Improve Slide Quality
Get professional results of your work satisfying the highest quality standards.